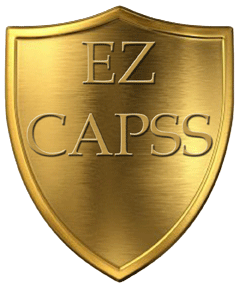 EZ-CAPSS is a unique software solution specifically designed for California Secondhand Dealer(s) to meet the state mandated reporting requirement for the exchange of tangible personal property transactions. But why would you want to use this software package versus just utilizing the CAPSS DOJ Website? Below we will give you the primary reasons why we believe our software solution is a superior choice for this requirement.
First it comes down to ease of use. The CAPSS website requires you to enter the customer name, address and license information. You must also upload a finger print and a signature image every time a new transaction is created. You must manually enter all of the required information on the web form, capture, save, adjusts size of images and upload each image for every customer for every transaction. I have heard customers who have attempted to do this and on average it would take them around 30 minutes per customer, per transaction. With EZ-CAPSS the customer information is entered once, the finger print and signature images are captured once and all information is stored in the system. From that moment forward, any time you perform a transaction, all associated information is automatically retrieved and uploaded for you. No need to enter it again and again. And if you use our recommended Magnetic Stripe IDScanner, a swipe of a customer's drivers' license is all it takes to create a customer profile in EZ-CAPSS. Click One button, Swipe the customer's ID, click two additional buttons to capture images and you are all done! Less than 1 minute and you are all ready to go.
Second, what about security of your customer's personal information? With the website, you are required to delete the local copies of the images for the customer finger prints and signature to minimize the chance of personal information falling in the wrong hands. You must also, re-capture, re-upload and re-delete the same files when the customer returns for a subsequent later transaction. With EZ-CAPSS, we manage the data storage and encrypt all customer information including all images. The information can only be shared with DOJ and it is only accessible within our own EZ-CAPSS System. We think security is important to you and your customers and we take it seriously.
Third, what about keeping up with DOJ data requirements? There are always changes that will require adjustment to systems and/or interfaces. We are experts in the software development arena and we intend to keep EZ-CAPSS up to date with all DOJ requirement changes. Improvements to our system will be delivered automatically with our self updating EZ-CAPSS software system. Timely updates and improvements are delivered automatically to all of our active customers.
These are some of the primary reasons why we believe EZ-CAPSS is the right and superior choice. Manually uploading transactions is really not a good choice; and NOT Uploading at all is definitively not advisable. Let us show you why EZ-CAPSS is your best solution in order to meet the mandatory reporting requirement.
Share